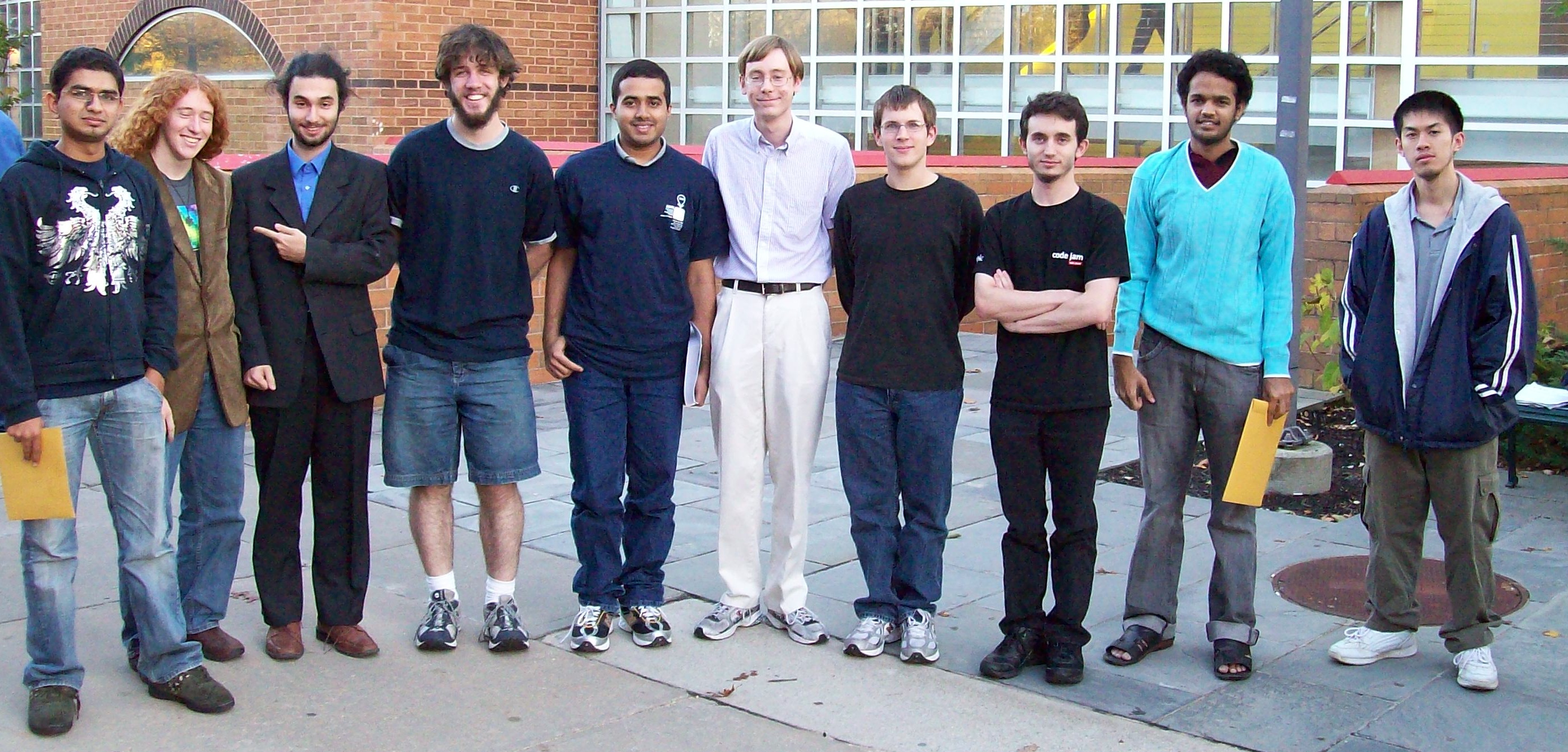 Stony Brook Teams First and Third in ACM Regional Programming Contest; Earn Trip to World Finals!
Stony Brook teams dominated the field at the ACM ICPC Greater New York Regional Programming Contest held on right on Long Island at St. Joseph's College on October 26, 2008, finishing first and third and earning a coveted trip to Stockholm, Sweden for the World Finals. They beat out 45 teams from around the region, including several from Cornell, Colombia, Yale, and NYU. But which Stony Brook team got sent to ``The Show'' would not be determined until the final minutes of the contest.
The champion Stony Brook 2 (SB2) team of Tynan Fitzpatrick, Roman Kogan, and Leif Walsh were the only team to solve eight problems during the five hour contest. It was a come-from-behind victory, having spent most of the afternoon tied for the lead in problems but behind rival Cornell on time, which is used as a tie breaker. With only twelve minutes to spare, they bagged the winning problem, firing fired off what proved to be the only correct solution to a notorious Problem H. Only the top team is guaranteed a berth in the finals, so this last solution put Cornell on the bubble while claiming the regional crown for Stony Brook.
The three members of the championship team are all undergraduates, and have competed together for the past two regionals, finishing ninth last year. They got off to a fast start this time, solving the first six problems in only 103 minutes. Leif and Tynan are both juniors and get to defend their regional title next year -- but first some unfinished business aganst the world in Stockholm next April. Stony Brook traditionally fields strong teams, having last won the regional in 2005.
The graduate student Stony Brook 1 (SB1) team of John Rizzo, Aravind Akella, and Jason Wu finished third, giving their teammates a run for the money. They were in the hunt all afternoon, but lost precious time in a subtle data type error. It was a tough break for the graduate students after a terrific team effort.
The freshman-sophmore team of Russell Kraner, Hrushikesh Bhatt, and Arjun Menon finished in 16th place, solving four problems in 237 minutes of elapsed time. This qualified for second place among freshman-sophmore teams, particularly noteworthy for a team with two freshman.
Thanks to acting coach Charles Ward, who took on team leadership during faculty advisor Steven Skiena's sabbatical in Hong Kong. Both the 2005 and 2008 regional victories occurred during Skiena's absence from the contest site. Next year's teams will have to decide whether to let him attend in 2009.
Stony Brook teams with and without official Citigroup umbrellas (thanks Citigroup!):
Team 1: John Rizzo, acting coach Charles Ward, Aravind Akella, and Jason Wu (left to right)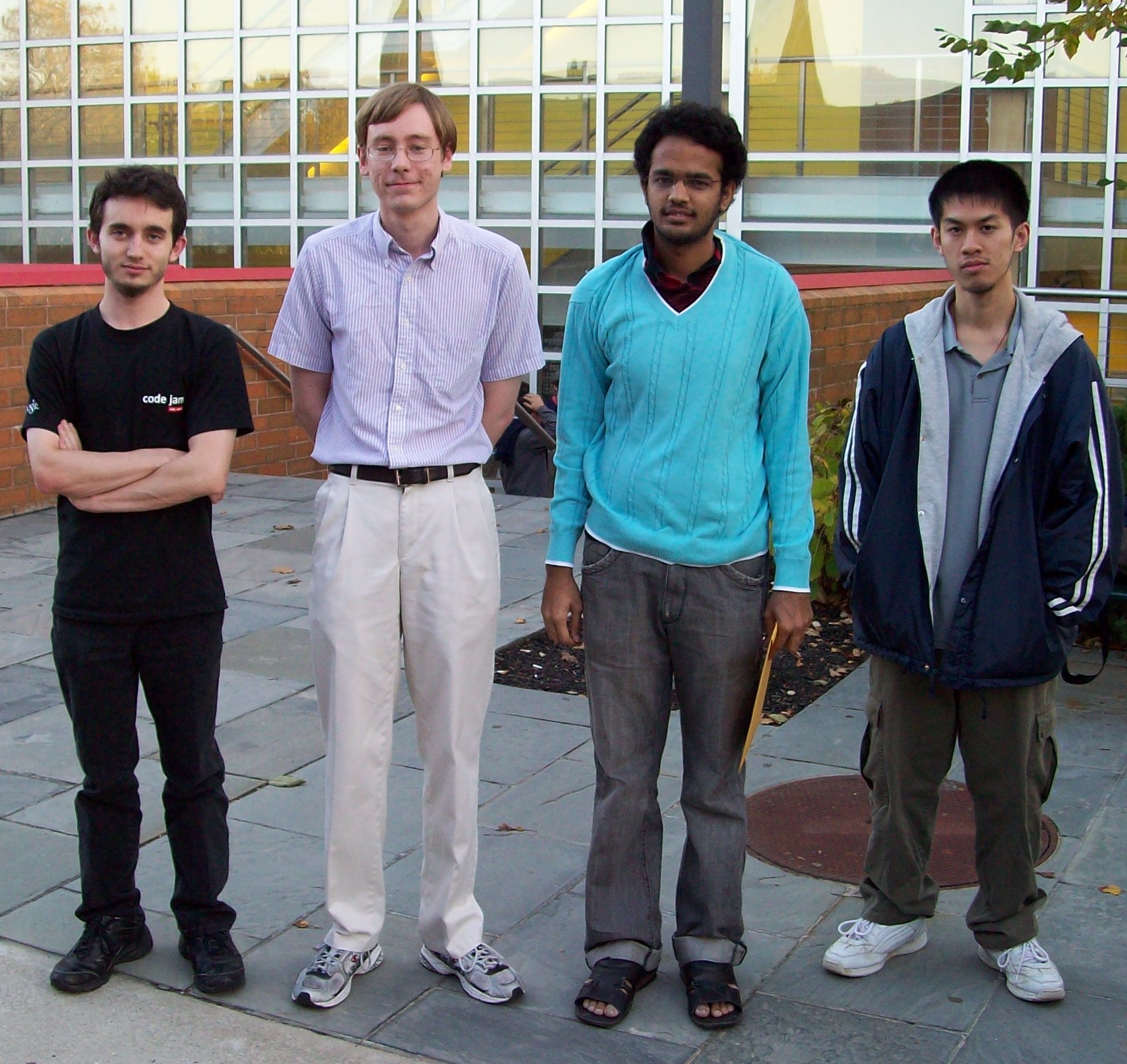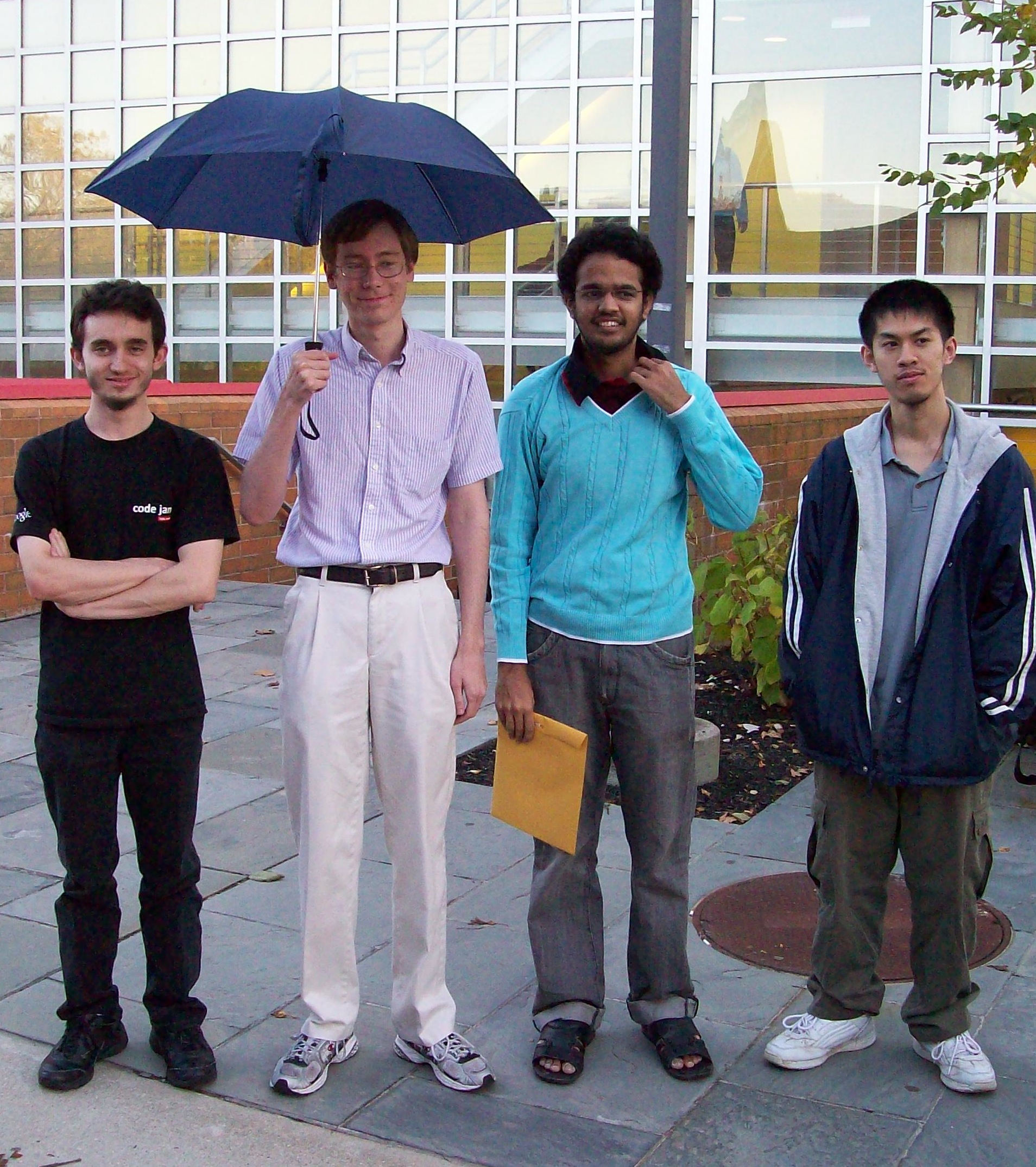 Team 2: The championship team of Tynan Fitzpatrick, acting coach Charles Ward, Leif Walsh, and Roman Kogan (left to right)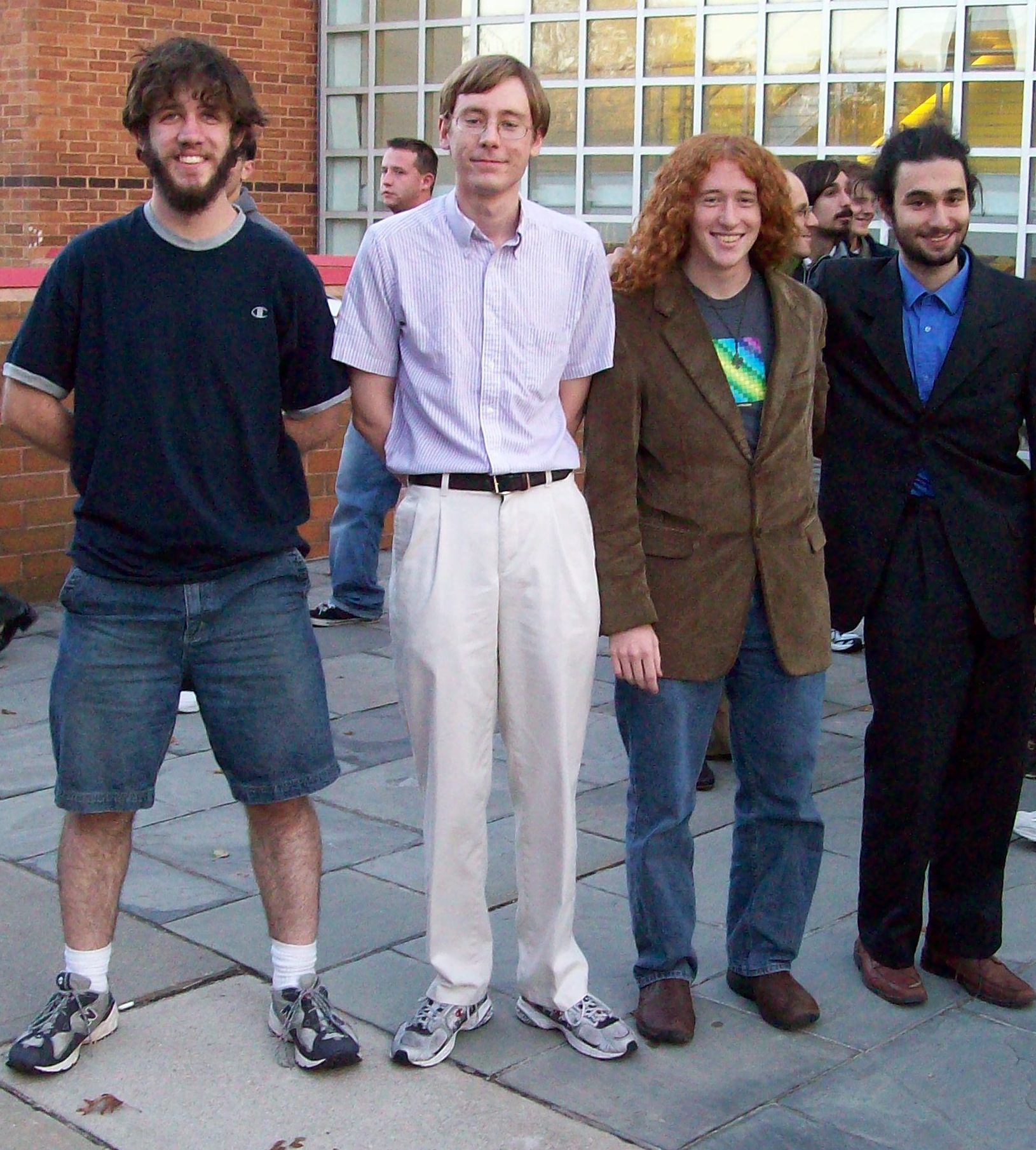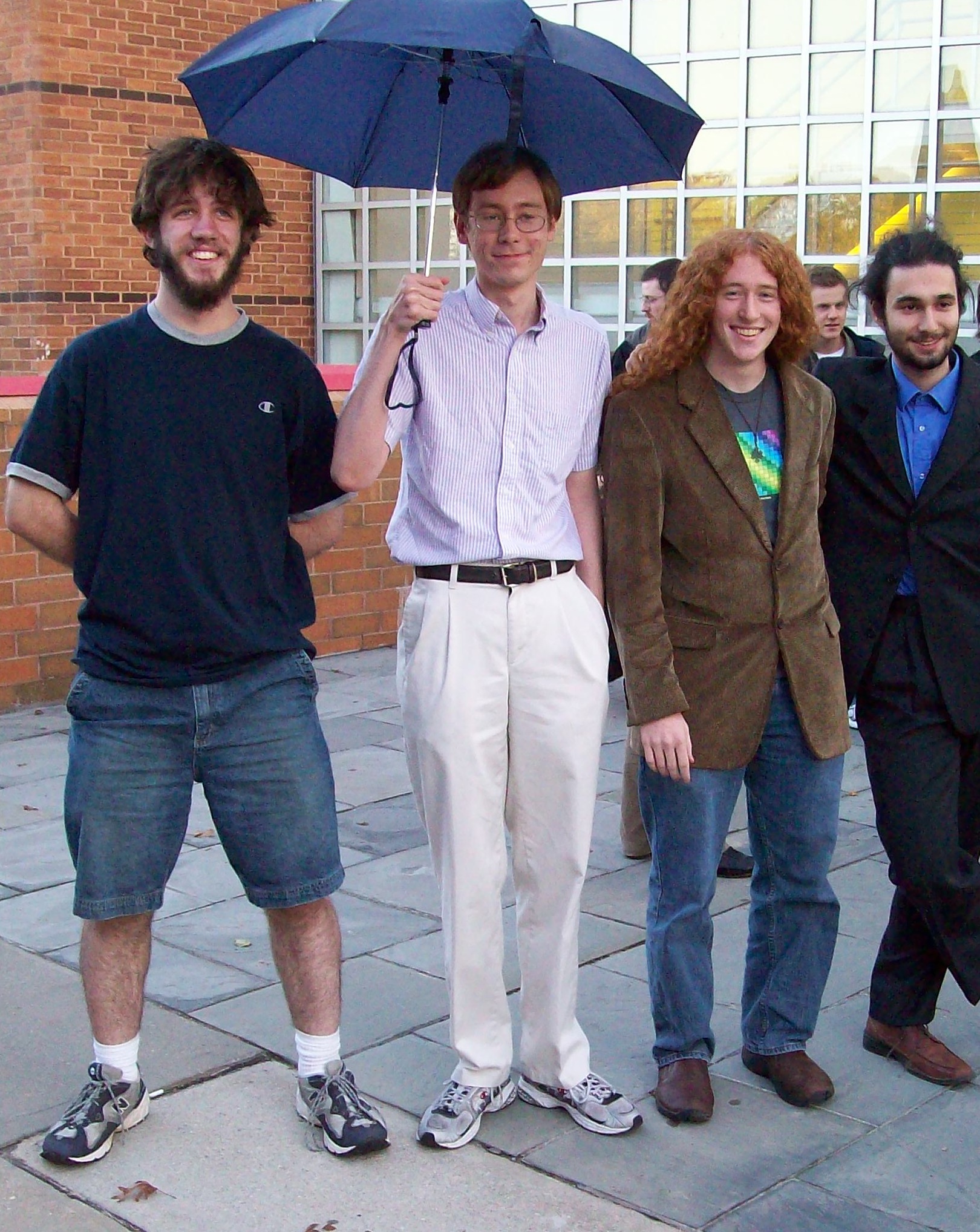 Team 3: Arjun Menon, Hrushikesh Bhatt, acting coach Charles Ward, and Russell Kraner (left to right)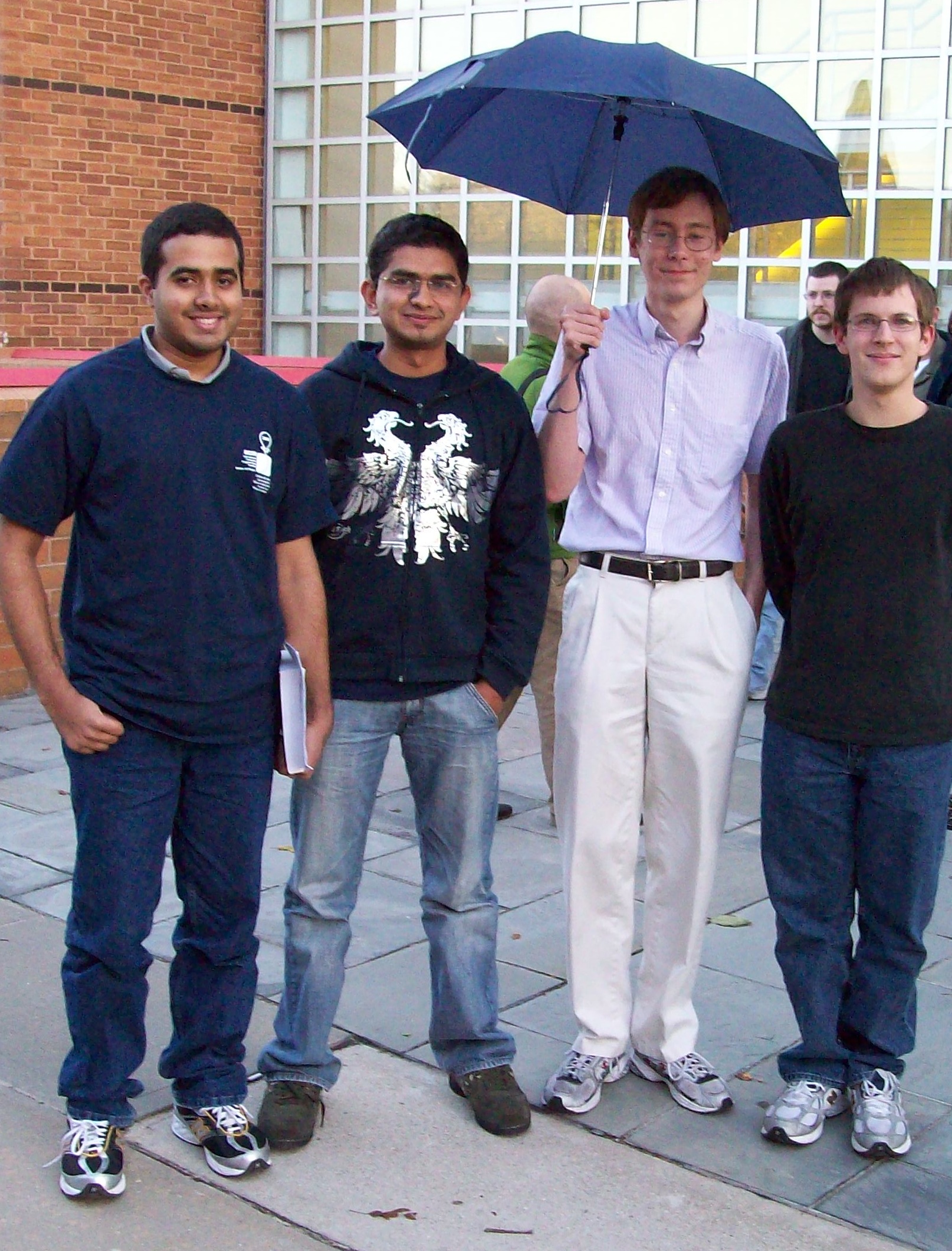 Previous years results include:
The activities of the Stony Brook Programming Teams are sponsored by a generous grant from Citigroup.