Visual Analytics and Imaging Laboratory (VAI Lab)
Computer Science Department, Stony Brook University, NY
WordBias: An Interactive Visual Tool for Discovering
Intersectional Biases Encoded in Word Embeddings
Abstract:Intersectional bias is a bias caused by an overlap of multiple social factors like gender, sexuality, race, disability, religion, etc. A recent study has shown that word embedding models can be laden with biases against intersectional groups like African American females, etc. The first step towards tackling such intersectional biases is to identify them. However, discovering biases against different intersectional groups remains a challenging task. In this work, we present WordBias, an interactive visual tool designed to explore biases against intersectional groups encoded in static word embeddings. Given a pretrained static word embedding, WordBias computes the association of each word along different groups based on race, age, etc. and then visualizes them using a novel interactive interface. Using a case study, we demonstrate how WordBias can help uncover biases against intersectional groups like Black Muslim Males, Poor Females, etc. encoded in word embedding. In addition, we also evaluate our tool using qualitative feedback from expert interviews.
Teaser: The visual interface of WordBias showing a Word2Vec embedding: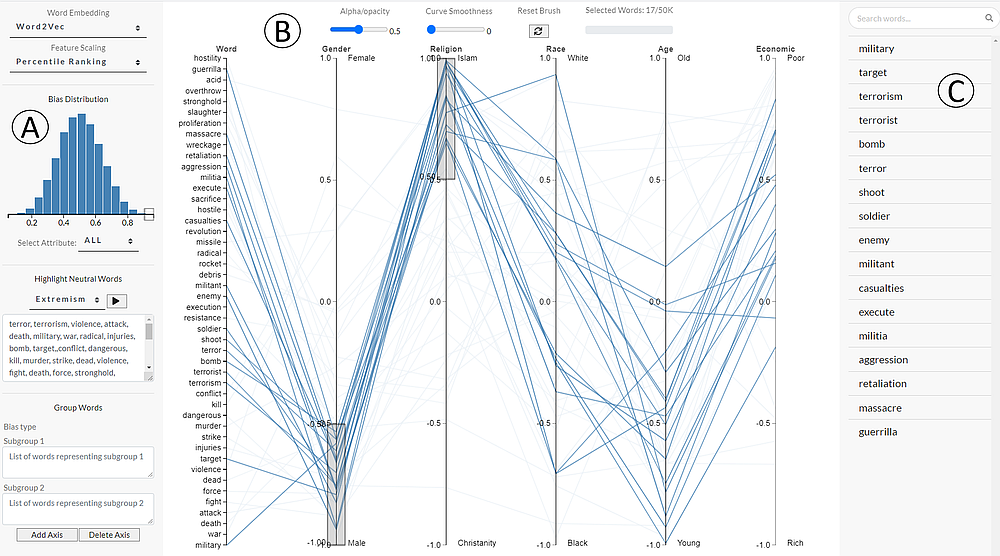 (A) The Control Panel provides options to selectwords to be projected on the parallel coordinates plot (B) The Main View shows the bias scores of selected words (polylines) along different bias types (axes) (C) The Search Panel enables users to search for a word and display the search/brushing results. In the abDEMOove figure, the user has brushed over 'Male' and 'Islam' subgroups. Words with strong association to both these subgroups are listed below the search box.
Video: Watch it to get a quick overview:
Paper: B. Ghai, Md. N. Hoque, K. Mueller, "WordBias: An Interactive Visual Tool for Discovering Intersectional Biases Encoded in Word Embeddings" ACM CHI Late Breaking Work, May 8-13, 2021 PDF | DEMO | GIT

Funding: NSF grant IIS-1941613