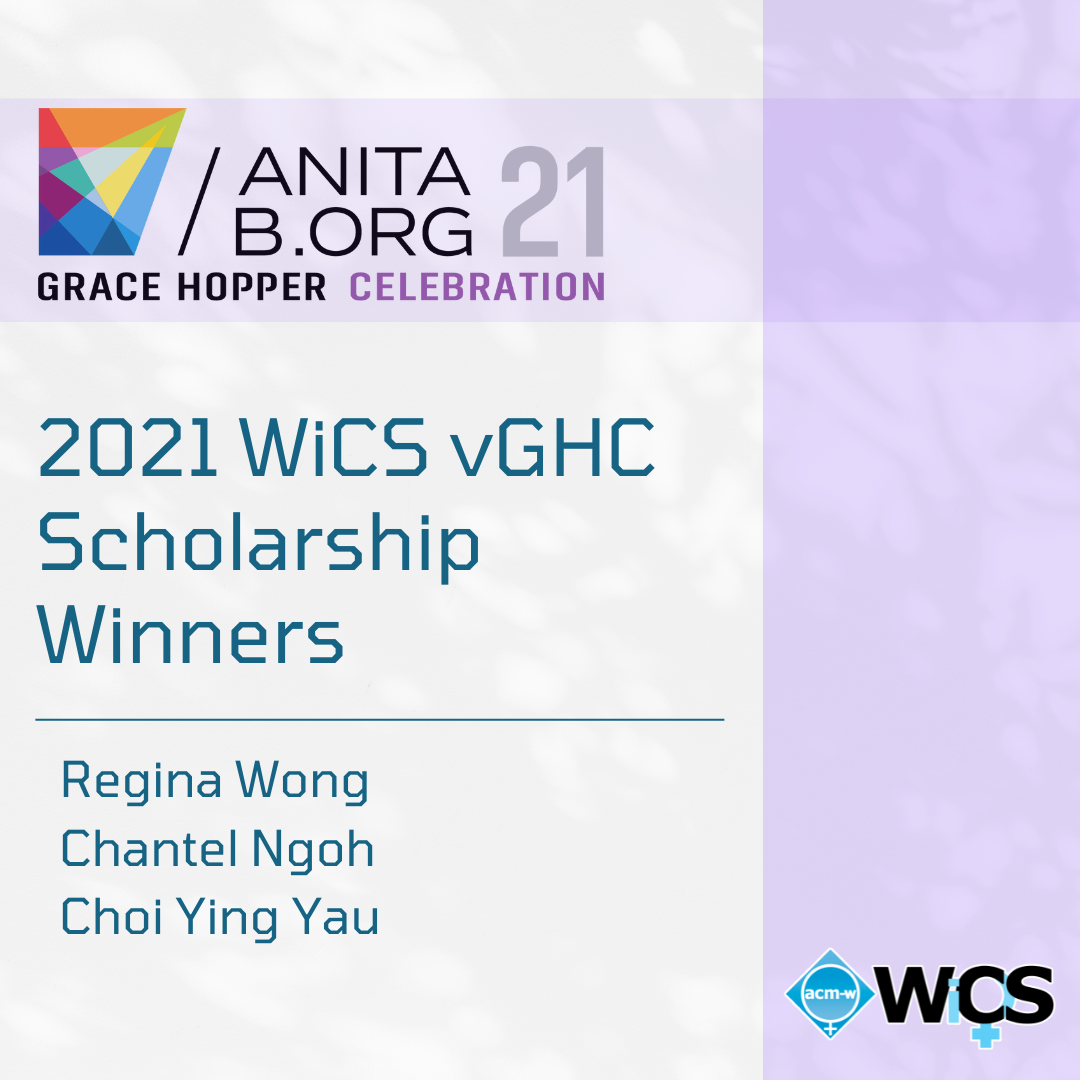 GHC Winners 2021
Interested in learning more about the Grace Hopper Celebration Scholarship? Hear about this amazing experience from the WiCS sponsored students of the 2021 batch!
Scholar # 1
Regina Wong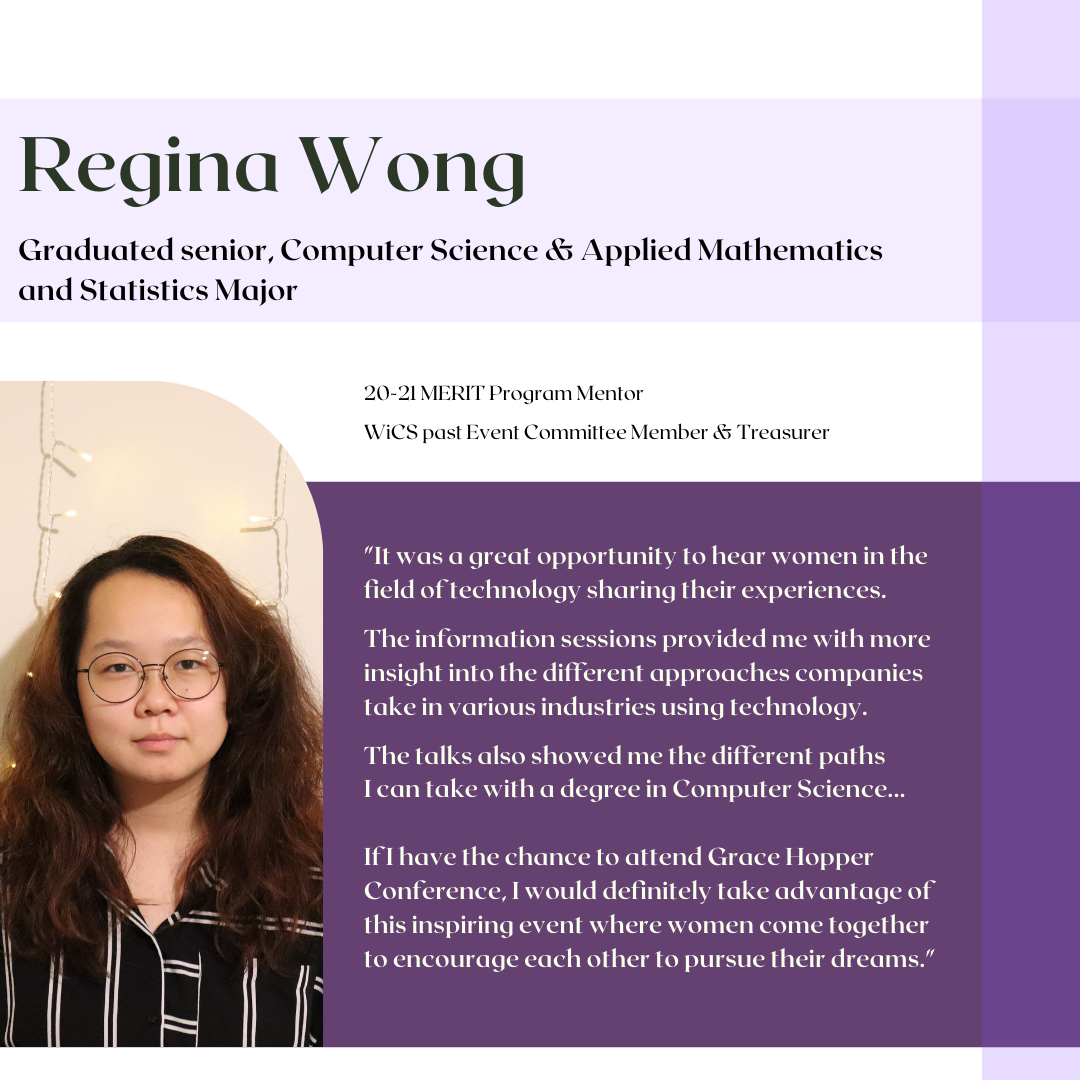 My bio
Hi! My name is Regina Wong and I am a senior double majoring in Computer Science and Applied Mathematics and Statistics. I was part of the MERIT mentoring program last academic year, where I mentored two first-year Computer Science students to help them with their transition into the university. I also joined WiCS in my sophomore year as an Event Committee Member before taking on the role of their Treasurer in the following academic year. During those two academic years, I had the honor of working with Joan, who is currently the Vice President of Community Relations, to make Hour of Code possible in our university. It gave me the opportunity to teach students from underserved communities the basics of computer science.
Experience of vGHC
This was the first time I attended the Grace Hopper Conference. Although it was virtual, it was an amazing experience. It was a great opportunity to hear women in the field of technology sharing their experiences. The information sessions provided me with more insight into the different approaches companies take in various industries using technology. The talks also showed me the different paths I can take with a degree in Computer Science.

Even though it was a bit difficult to talk to other participants of the Grace Hopper Conference due to the fact it was virtual, I did get to connect with a lot of people via LinkedIn. The one-on-one's also gave me the opportunity to engage in more in-depth conversations with company representatives about their roles and responsibilities. If I have the chance to attend Grace Hopper Conference, I would definitely take advantage of this inspiring event where women come together to encourage each other to pursue their dreams.
Scholar # 2
Chantel Ngoh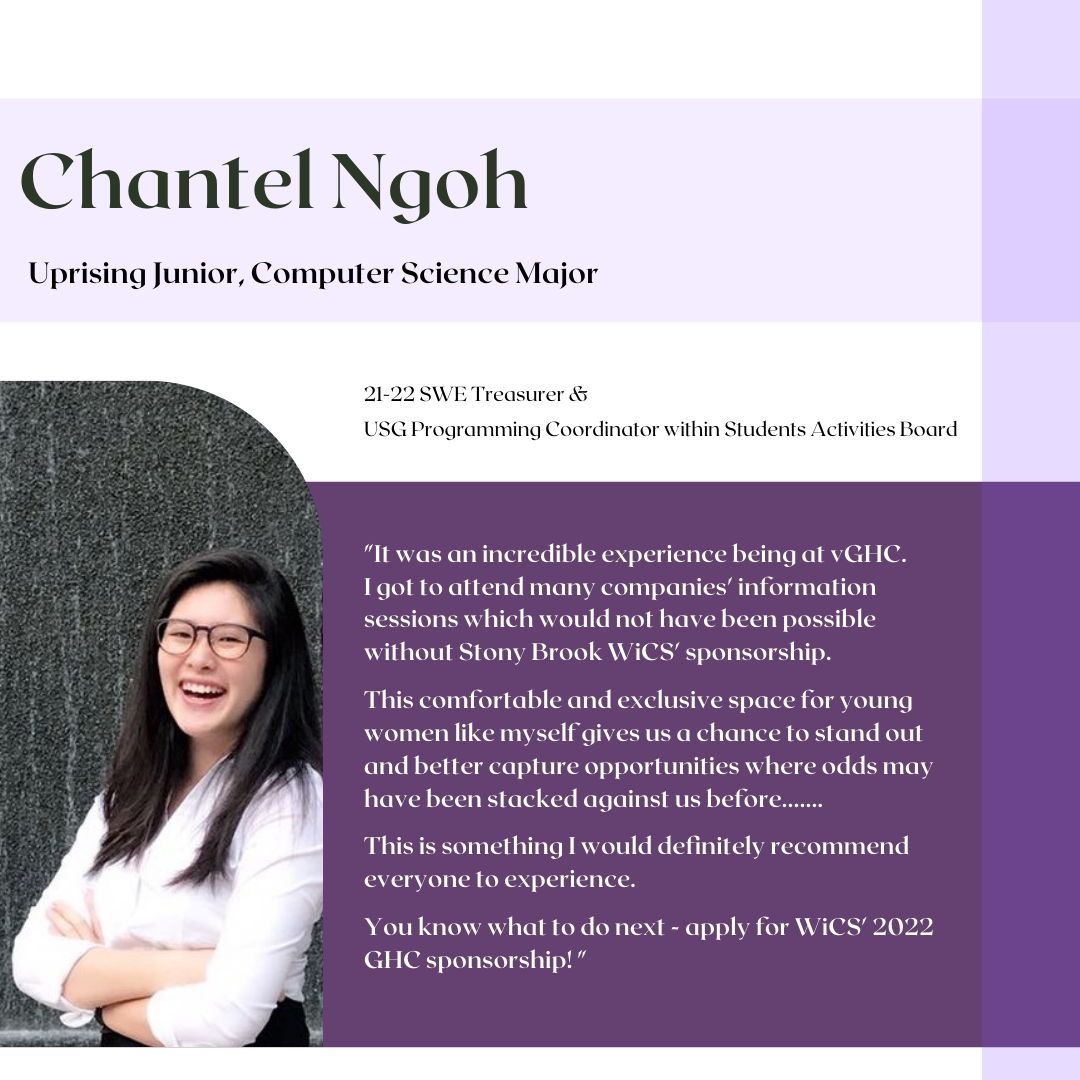 My bio
Hi there! My name is Chantel Ngoh and I am a sophomore majoring in Computer Science. On campus, I am involved in organizations such as Society of Women Engineers where I serve as its Treasurer and USG where I hold the position of a Programming Coordinator within the Students Activities Board. Personally, one of my biggest accomplishments has to be when I stepped on the stage of the world's largest fintech festival to present my team and I's award-winning hackathon product to industry leaders!
Experience of vGHC
It was an incredible experience being at vGHC. I got to attend many companies' information sessions which would not have been possible without Stony Brook WiCS' sponsorship. This comfortable and exclusive space for young women like myself gives us a chance to stand out and better capture opportunities where odds may have been stacked against us before. Furthermore, GHC provides a two-way relationship between students and companies where companies reach out to students via the resume database feature and students interact with companies by visiting the companies' booths. This intimate setting for career advancement is something I would definitely recommend everyone to experience. You know what to do next - apply for WiCS' 2022 GHC sponsorship!
Scholar # 3
Choi Ying Yau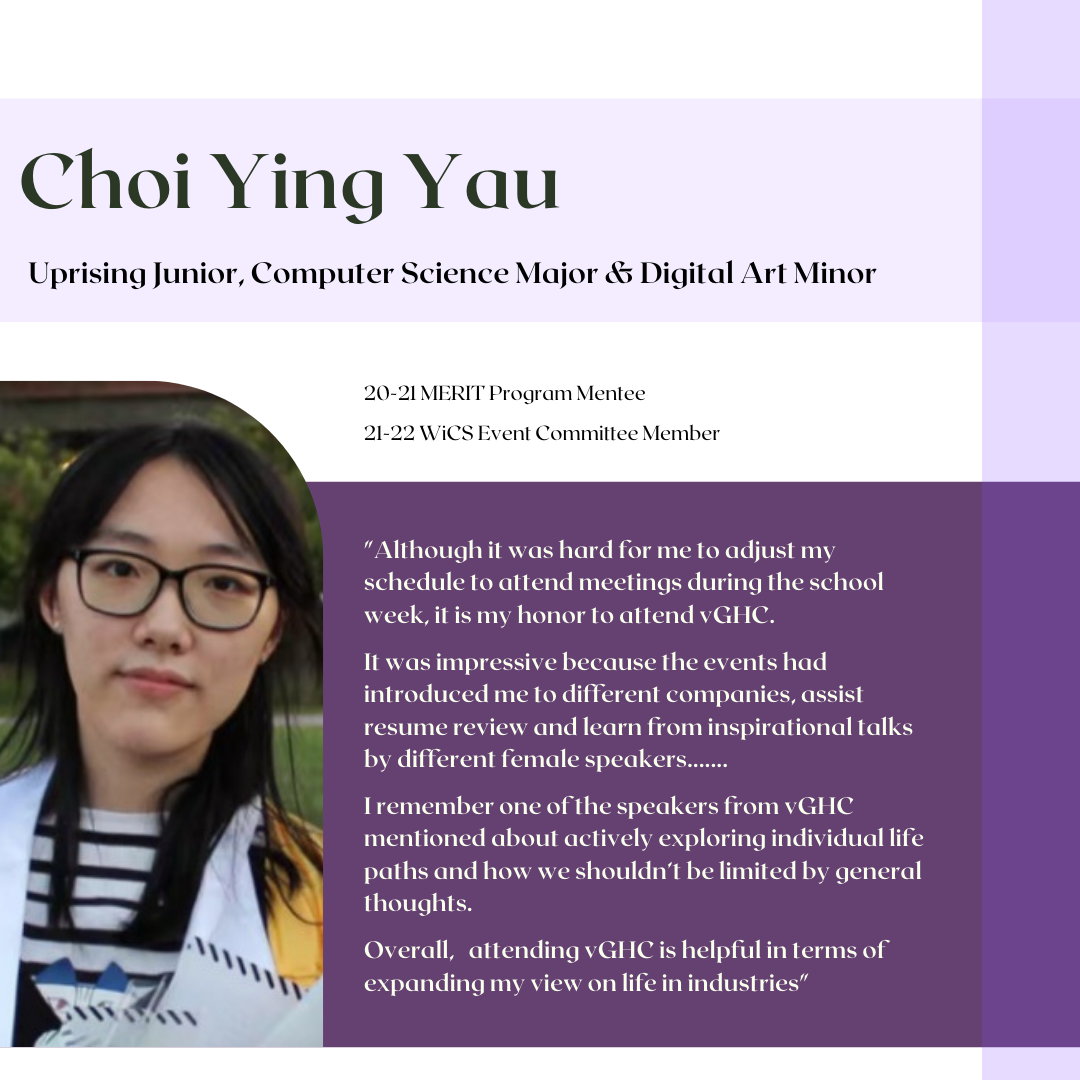 My bio
Hi! My name is Choi Ying Yau and I'm currently a sophomore majoring in Computer Science and minoring in Digital Arts. During my freshman year, I have participated in the MERIT program that introduced me to Python and frontend through projects. After missing a year of in person classes during COVID time, now I become a part of general members of WiCS, looking forward to knowing more people with similar interests on campus. My experience with coding was mostly based on Java due to high school classes, but I am open for more challenges and opportunities starting college.
Experience of vGHC
Although it was hard for me to adjust my schedule to attend events during the school week, it is my honor to attend vGHC. It was impressive because the events had introduced me to different companies and learn from inspirational talks by different female speakers. I remember one of the speakers from vGHC mentioned about actively exploring individual life paths and how we shouldn't be limited by general thoughts. Outside connections with other attendees, one good thing about AnitaB.org is that they had job alerts, assisted me in reviewing resume and allow me to upload it onto their database (visible for recruiters). I think attending vGHC is helpful in terms of expanding my view on industries.