Deception, Cognitive load and Keystrokes
Recent research has shown that lying generally imposes a cognitive burden, which only increases in real-time scenarios. Cognitive burden, in turn, has been known to produce differences in speech, and similarly, in keystroke features. Pauses in typing, especially, have been linked to increased cognitive burden.
Keystroke logs can be utilized as an extended linguistic signal capturing the real-time writing process. Motivated by analogies to prosody, we extract features from keystroke logs to
understand the deceptive intent of authors as manifested in typing behavior, and
empirically improve deception detection in digital writings.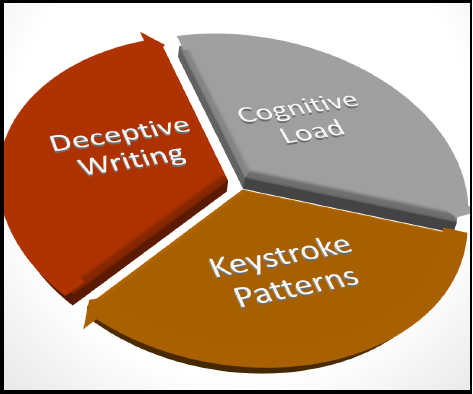 An analysis of how much time writers spend on different types of words reveals more about the relation between deception and cognitive processes. The top 20 words with the greatest time-span difference between truthful and deceptive reviews are shown here:
More time spent in
truthful reviews
deceptive reviews
INSIGHTS
Truthful writers spend more time on highly subjective words.
Deceptive writers spend more time on first-person pronouns. Possibly indicating that the lack of psychological distance while lying leads to increased cognitive load.
Classification Accuracy: adding keystroke features leads to improvement over a strong baseline.