Abstract: The Five W's is a popular concept for information gathering in journalistic reporting. It captures all aspects of a story or incidence: who, when, what, where, and why. We propose a framework composed of a suite of cooperating visual information displays to represent the Five W's and demonstrate its use within a healthcare informatics application. Here, the who is the patient, the where is the patient's body, and the when, what, why is a reasoning chain which can be interactively sorted and brushed. The patient is represented as a radial sunburst visualization integrated with a stylized body map. This display captures all health conditions of the past and present to serve as a quick overview to the interrogating physician. The reasoning chain is represented as a multi-stage flow chart, composed of date, symptom, data, diagnosis, treatment, and outcome. Our system seeks to improve the usability of information captured in the electronic medical record (EMR) and we show via multiple examples that our framework can significantly lower the time and effort needed to access the medical patient information required to arrive at a diagnostic conclusion..

Teaser: Some screenshots of our system: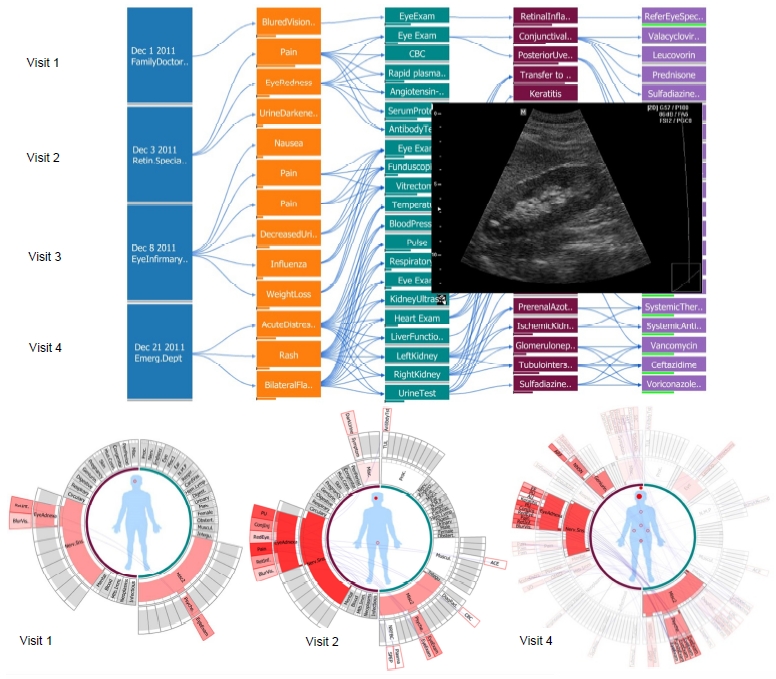 Complex medical case involving four different doctors in a collaborative diagnosis task. Top: sequential display after the fourth visit. Bottom: the emerging radial displays labeled by visit number.
Video: Watch to see the system in action:
Paper: Z. Zhang, B. Wang, F. Ahmed, IV Ramakrishnan, A. Viccellio, R. Zhao, K. Mueller, "The Five W's for Information Visualization with Application to Healthcare Informatics," IEEE Trans. on Visualization and Computer Graphics, (to appear) .pre-print pdf
Demo: You can play with a demo here. It is browser-based -- Chrome and Firefox are recommended. In order to run the program locally you might need to allow Flash to access the local files (some ICD coding files, images...) by visiting this page. On this page you would select the "global security setting" tab, pick "edit locations", go to "add location", and then point to the program folder that has the files and set the permission to "always allow".
Related web page: A Visual Analytics Framework for Emergency Room Clinical Encounters
Funding: NSF grant IIS 1117132 and a seed grant from Stony Brook University Hospitals and CEWIT.