The Upper Gauley ("Paddle or Die") White Water Rafting Trip 1997
This collection documents how an uncoordinated bunch of awkward leisure paddlers is converted into two competitive white water rafting crews. All it took was one trip down the Upper Gauley River with "Girly Girl" Robin Hollywood, our tough but fair raft guide. Driven by commands like "Paddle harder, you motherf....s" we found physical energies we never thought we had and survived a number of class 5+ rapids, like "Sweet Falls", a 14 feet drop into pure water spray. But see for yourself... (Click on thumbnails to get full resolution pics)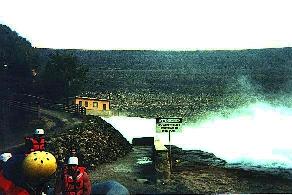 Putting in the raft, right behind rages the released water of Summerville Lake
Here we go, into the wild water...






The team was mostly German, with the West Germans (Inga, Holgi and Klaus) paddling on the right, and the East Germans (Torsten, Peter and honorary East German Chris Myers) paddling on the left (how symbolic).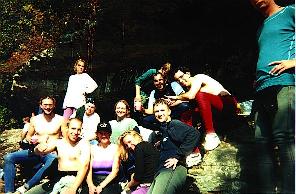 On the shore for lunch, with jello legs.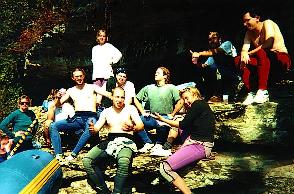 Still on the shore. Holgi and Torsten swear never to sit in the middle of the boat again. I guess, the constant bailing of water with big white buckets wasn't so much fun after all...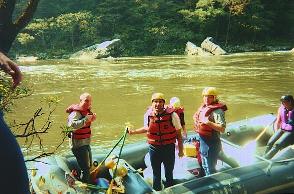 Back into the raft, the water looks like the river Ganges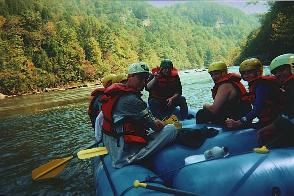 The other guys: Jason, Andrea, Gabor, Alex, Irena, Leo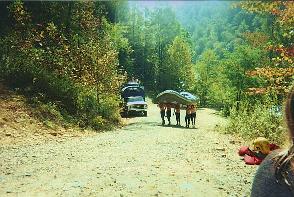 This was a no-frills trip, we had to carry the raft back onto the truck ourselves.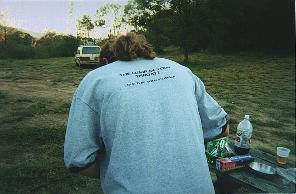 This T-shirt says it all: "The lump in your throat? That'd be your stomach"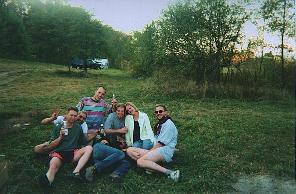 We also did some yellow water: Here we are rafting the Coors Light River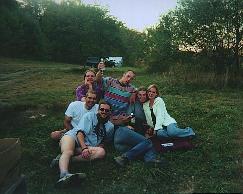 More yellow water rafting, for us Germans Coors wasn't quite the taste we're used to. Holgi tries some other NAFTA brewery products.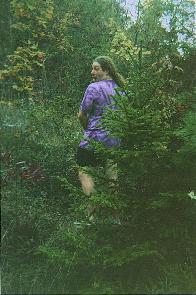 Bigfoot?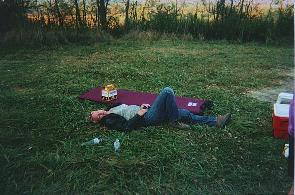 Drowned by the loads of free beer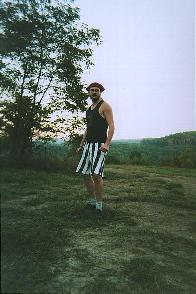 Peter "The Pirat" Ahnert