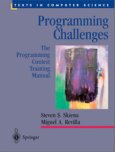 ---
BIPM -- Bipartite Matching Codes
---
This directory contains several programs that implement algorithms for bipartite matching in unweighted graphs. Except where noted, all programs were written by Joao Carlos Setubal (setubal@dcc.unicamp.br), who also wrote this documentation. You can use and modify the codes freely, but please acknowledge authorship. If a bibliographic reference is needed, use the following:

J. C. Setubal, Sequential and Parallel Experimental Results with Bipartite Matching Algorithms. Technical Report IC-96-09, Institute of Computing, State University of Campinas (Brazil), 1996.

A postscript file containing this tech report is in directory techreport, compressed with gzip. It will be easier to understand what each code does if you read the tech report first.
---
João Carlos Setubal's home page (with source)
---
Problem Links
---


This page last modified on 2008-07-10 . www.algorist.com