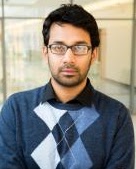 A Short Biography
I am a research assistant professor at the Department of Computer Science, Stony Brook University, and affiliated with the Institute for AI-Driven Discovery and Innovation. In 2017, held a joint appointment with the Department of Computer Science and the Department of Emergency Medicine, Stony Brook School of Medicine. I was awarded a Ph.D. in computer science from Stony Brook University in 2015, advised by Yejin Choi and co-advised by I. V. Ramakrishnan. Prior to joining the department as a doctoral student, I worked in a few technology startups in India after receiving a M.Sc. in Computer Science and B.Sc. in Mathematics and Computer Science, both from Chennai Mathematical Institute, India.
My current academic curriculum vitæ is available here.
Research Interests
My research interest lies in natural language processing (NLP), machine learning (ML), and artificial intelligence (AI), with a focus on two areas in particular: learning in the biomedical domain for applications in healthcare informatics, and language use & society.
I am currently looking for a PhD student to work in the language use & society project. This is a 2-year funded position.
Awards
EAGER: SaTC: Tracking Semantic Change in Medical Information


Division of Social and Economic Sciences (SES) at the National Science Foundation (NSF)

2018 – 2020
Computer Science Chair Fellowship, Stony Brook University
2009 – 2010
National Graduate Scholarship, India
2005 – 2007
National Board of Higher Mathematics Scholarship, India
2001 – 2004
News